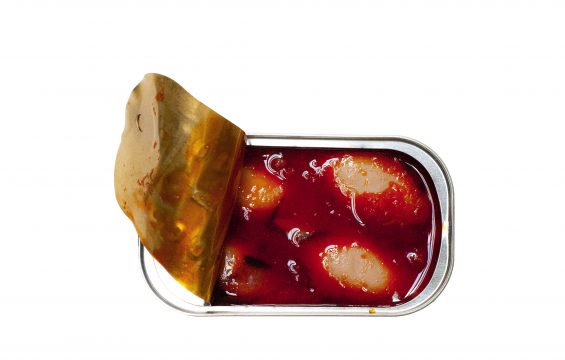 Spiced Calamari in Ragout Sauce
With a taste of spices… pepper, clove, laurel, the simplicity of this recipe guarantees the qualities and freshness of the fish. Originating in the Atlantic and Pacific oceans, the squids selected to prepare this fish stew offer nutrients that bring added value to the general well-being and health of the consumer. An indispensable delicacy, if you have already savoured it, and an absolute must if you haven't!
A certain squid wanted to be a painter. Wide-eyed, she would paint just about anything. But as soon as she finished painting, she would change colour and blend with her paintings. That's why nobody saw her at the exhibition.
---
Shop
---
Recipes
CHILDREN IN THE KITCHEN
Squid tacos
Chop 8 iceberg lettuce leaves in julienne style, and then stuff the chopped lettuce into mexican tacos from 1 packet. Cover with 2 tins of squids which have been drained. Use the sauce of the tin and add 4 soup spoons of cream cheese and use as a spread.
GOURMET ADULTS
Squid rise with mint and basil
Fry 1 chopped onion in olive oil and add 200g of carolino rice and stir fry approximately 3' to 5'. Add 1/2 | of warm vegetable stock. When the rice is cooked just add 4 squid tins. Add 8 mint leaves, 1/2 a bunch of sliced basil and 50g of butter. if the rice is not juicy enough, add some more vegetable stock.
Illustration João Vaz de Carvalho
Text Eugénio Roda
Recipes Luís Baena