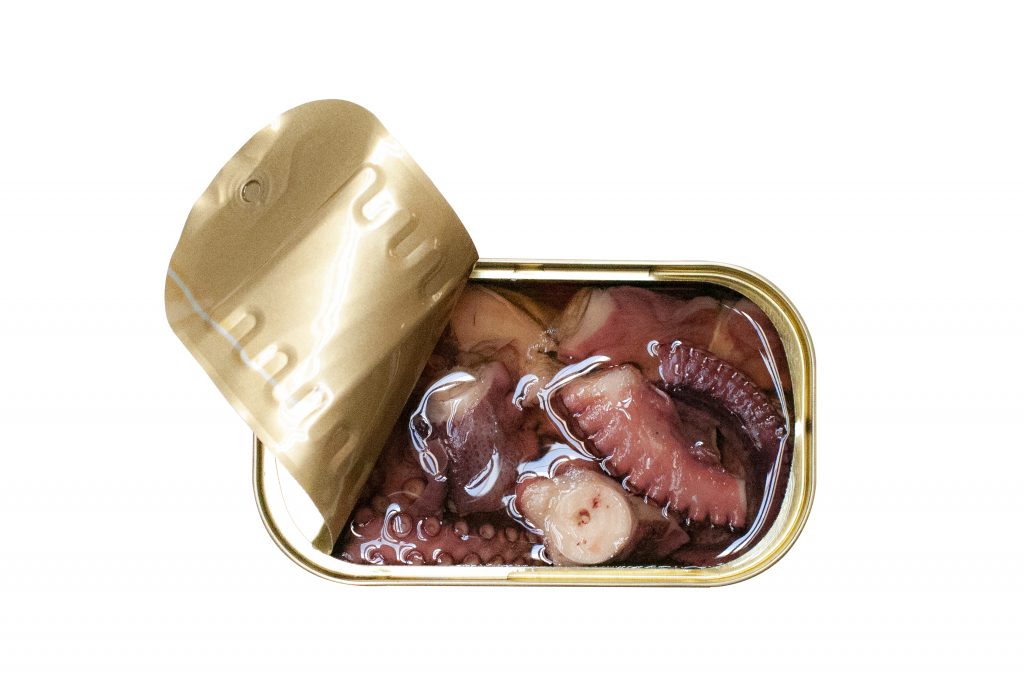 Spiced Octopus in Olive oil
The octopus is a delicious mollusc. Its consistency and soft texture make it a unique delicacy, unparalleled. What we propose is a spicy version of our octopus caught in the Atlantic Ocean. This irresistible combination with piri piri is so appealing that you will want to try this delicacy at every sunset.
One day, a certain octopus complained about his life. Although he belonged to a biologically diversified family, he had been born an octopus and that's how he lived. That was it, nothing else to be but an octopus. He needed to spice up his days, even if it meant sprinkling some magic dust to stir that monotony. Apparently, someone indulged him.
---
Shop
---
Recipes
CHILDREN IN THE KITCHEN
Octopus with peri-peri Samosas 4 persons – 2 cans
Separate 4 sheets of frozen Chinese crepe (Spring roll) and cover with a cloth.
Drain the preserves and mix with 8 tablespoons of cooked basmati rice.
Make a stew with olive oil, 1 small chopped onion and 1 chopped skinless tomato. When thick you may add curry and mustard.
Roll up the samosas https://www.youtube.com/watch?v=gE9WZzjVGhI and deep fry.
GOURMET ADULTS
Octopus Risotto in Olive Oil with Peri-Peri – 4 people – 4 cans
Lightly fry ½ clove garlic and ½ bay leaf in 20 ml of olive oil. Add 250 gr of carnaroli or arbório rice and fry lightly with medium heat.
When ready, increase the heat to the maximum, refresh with 50 ml of white wine and let evaporate completely.
Add 125 ml of fish stock or vegetable stock and allow evaporating. Add more broth and cook until it has the desired texture "al dente". Add the octopus and remove from the stove. Add 100 gr of cold butter cut into cubes; add a little at a time to turn creamy. Serve it with fresh basil or another aromatic herb.
Ilustração João Drumond
Texto Eugénio Roda
Receitas Luís Baena