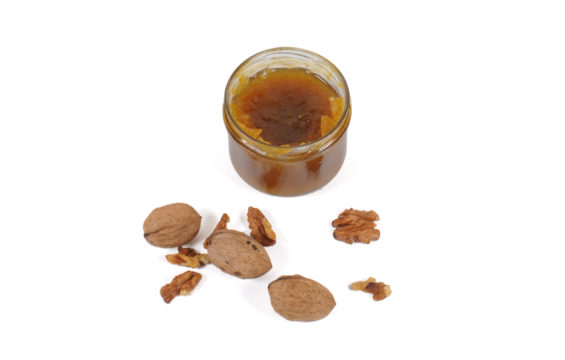 Pumpkin and Walnut Jam
Pumpkin, walnut and cinnamon are the soul of the party. The tasty and nutritious pumpkin is a source of antioxidant vitamins, rich in fiber, calcium, iron, phosphorus and potassium. Walnuts are one of the nuts and oilseeds with the most nutrients. They are rich in proteins, carotenes, carbohydrates, unsaturated fats, minerals like zinc, copper, potassium, phosphorus, iron, calcium, sulfur and magnesium, as well as vitamins B1, B2 and B5. As if that were not enough, walnuts have melatonin, which acts on the regulation of sleep, and tannins. Now, cinnamon: in addition to its richness in substances such as iron, manganese or calcium, its thermal effects on the body enhance fat burning, and the war on free radicals is a guaranteed promise. But the best part of this match made in heaven is that it provides all the benefits without you even having to think about it, all you have to do you is relish the heavenly flavor and aroma. A temptation: have you ever tried it with some nice curd cheese?
Some temptations do not repeat themselves… but often!
Illustration Fátima Afonso
Text Eugénio Roda
---
Shop