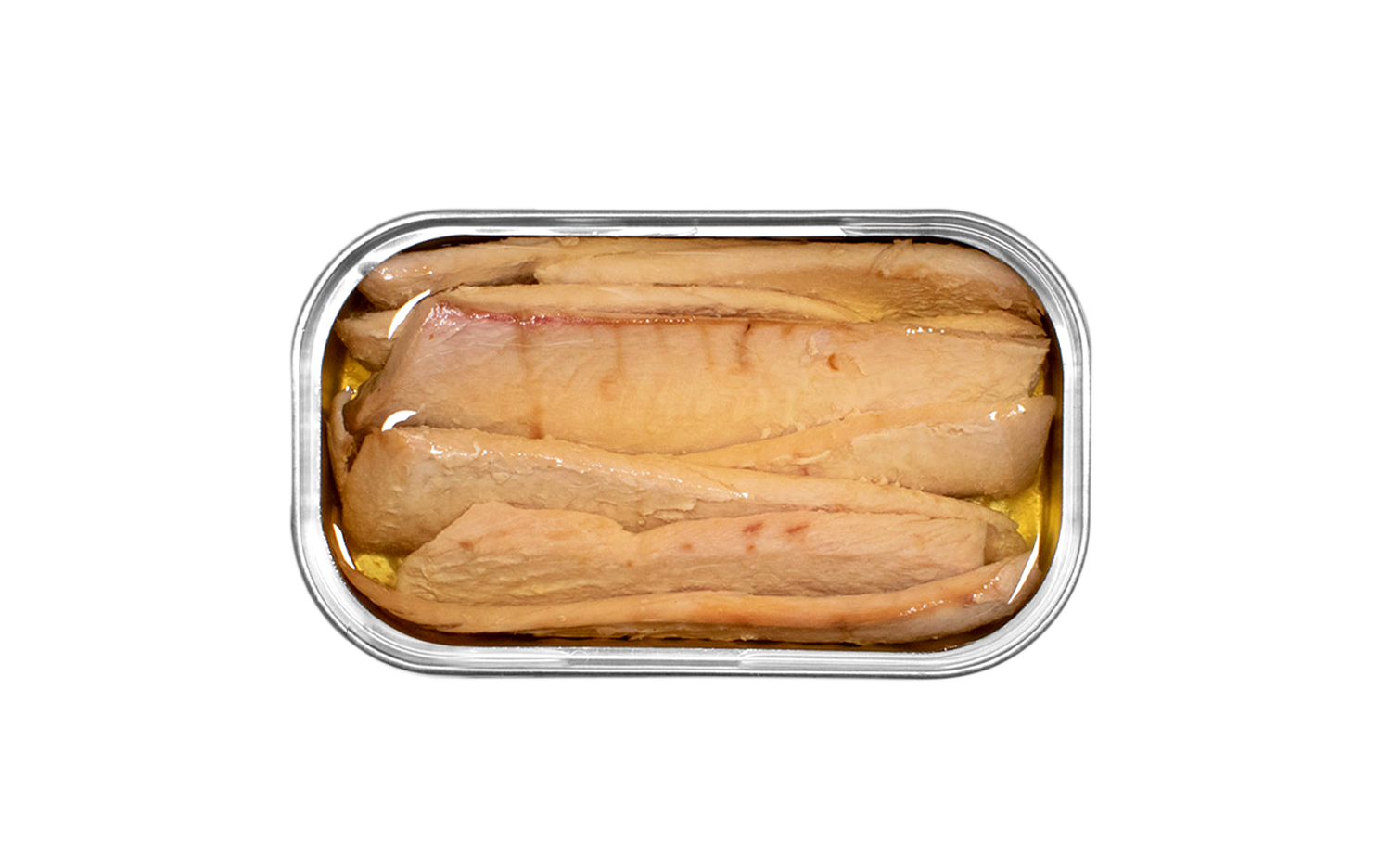 Ventrusca Tuna in Olive Oil
An excellent supply of proteins, lipids, vitamins and mineral salts, tuna has a special place in the Mediterranean diet. Different parts of tuna may be cooked and preserved with high food value and a source of omega 3. Ventrusca tuna concentrates a higher amount of fat, a creamier texture and is richer to the palate. Such a precious delicacy!
There once was a tuna that decided to warm up the water by raising his body temperature. 'Feeling cold,' he said! He couldn't warm up the entire ocean, but he still keeps his body so warm that the icy waters melt as he swims along.
---
Shop
---
Recipes
CHILDREN IN THE KITCHEN
Potato salad with ketchup and tuna mayonnaise
Boil 200g of cube—cut potatoes. Drain and let cool. Add 1 tin of corn and a few black olives. Mix 1,5dl of mayonnaise with ketchup, and mix in with the salad. Decorate with 2 ventresca tuna tins.
GOURMET ADULTS
A thousand sheets ventresca tuna fish with confit tomato
Grill, at 180°C, 4 garlic cloves wrapped in foil for 40'. Cut off the ends of each clove and squash until you get a brownish paste to which you must add the oil from the tin. Use the rolling pin to thin out 1/2 kg puff pastry until it is 2mm high and bake in the oven at 210°C. Let cool and cut into 3 rectangular pieces. Top two rectangular pieces with 1 soup spoon of the garlic paste and 4 gherkins or cornichons, which have been sliced length—wise. Place the sliced ventresca on top. Cover with the third rectangle of puff pastry. Serve with 250g confit cherry tomato. Place in a baking tray and in the oven at 150°C for 20'. Sprinkle 1 espresso spoon of icing sugar, salt, 2 smashed garlic cloves and olive oil.
Ilustração André Letria
Texto Eugénio Roda
Receitas Luís Baena