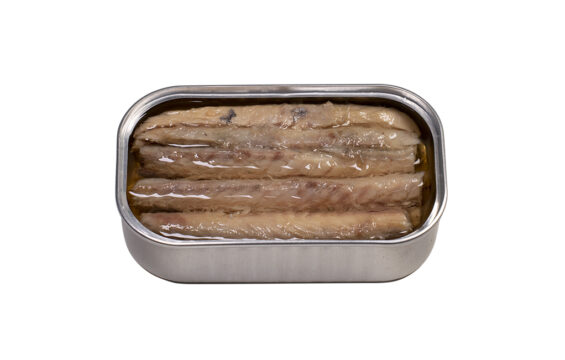 Mackerel Fillets in Olive Oil
The traditional abundance of mackerel in Portuguese waters, and its frequent intake has provided it with a special status at our table. Captured in the north-eastern Atlantic Ocean, this fish represents a food product which has attracted increasing interest, motivated by scientific evidence regarding its nutritional properties.
Tired of living winter time in the dark depths of the ocean, a certain mackerel wanted to change its destiny. It turned into fillets and became the seahorses' keeper, in disguise. Thus, it stopped trembling in fear, and began shaking from the cold.
---
Shop
---
Recipes
CHILDREN IN THE KITCHEN
Chub mackerel fish fingers
Blend together 3 tins of chub mackerel and 150g fresh hake fillets. Place the mix into the mould for making ice cubes and allow to harden. Dip the cubes into 1 egg yolk and bread crumbs. Deep fry. Serve with a side salad and mayonnaise.
GOURMET ADULTS
Tuna tataki in a meIi—mélô with chub mackerel
Cut 200g of fresh tuna into a parallelepiped shape, season with sea salt and fry in a pan with olive oil over high heat. Cut into slices of 1/2 cm and alternate With 3 tins of chub mackerel fillets with approximately the same size. Serve with crispy salad seasoned with olive oil and cherry vinegar. Decorate with a reduction of balsamic vinegar until it has a syrup consistency. Can also be served with toasts as an appetizer or with mashed potatoes as a main course.
Illustration Teresa Lima
Text Eugénio Roda
Recipes Luís Baena