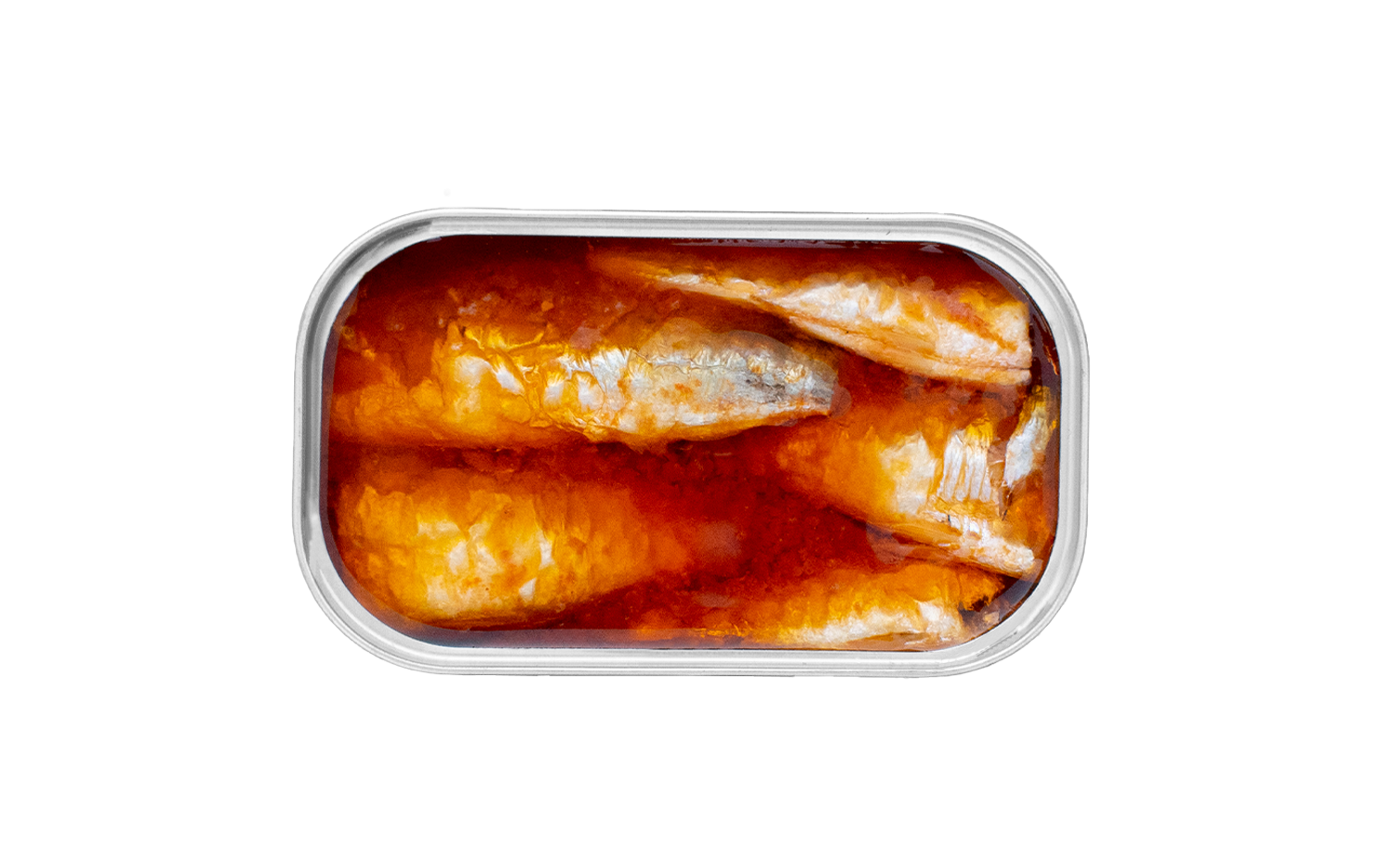 Sardines in Tomato
Tomato and olive oil are two of the main characters of the best culinary tales. The selection and careful preparation of these ingredients guarantee the success of a good seasoning. Now add the leading actress, the sardine! Originating in the North East Atlantic and the Mediterranean sea, the sardine is caught at its best.
Once upon a time, there was a sardine that wanted to become a tomato. Although she succeeded, she lost her aroma, and didn't like her smooth red body. Having changed her mind, she decided she would rather have the tomato as a friend …
---
Shop
---
Recipes
CHILDREN IN THE KITCHEN
Club sandwich with sardines in Tomato 2 people – 2 cans
Toast 3 slices of crust less bread. Cut 4 leaves of lettuce in julienne and mix with 2 to 3 tablespoons of mayo. Spread this mixture on 2 slices of toasted bread.
2 hardboiled eggs, pan-fry 4 slices of bacon slowly in a non-stick frying pan. Remove all fat. Cut 6 slices of tomato.
To assemble, place a slice of bread with the lettuce julienne, on top 3 slices of tomato, one sliced hardboiled egg, the sardines in tomato from one of the cans and half the bacon
Above put the second slice of bread with the same ingredients as the first layer. Cover everything with the last slice of bread.
Cut the slices into four triangles; place them on a plate with straw potatoes in the centre.
GOURMET ADULTS
Penne putanesca, tomato, anchovies, olives, cappers & Sardines in Tomato 4 persons – 3 cans
Heat 60 ml of olive oil in a medium casserole over medium heat. Add 4 cloves of chopped garlic and sauté, about 1 minute. Add 40 gr tomato puree mixed with the preserves, 100 gr olives, 3 fillets of anchovy, 20 gr of capers and oregano. Boil the sauce on medium-low heat until it thickens, about 8 minutes. Season with salt and pepper.
Bake 350 g of penne in a large saucepan with boiling water and salt until it is in the right place, but still firm. Drain the dough; return to the same pan. Add the sauce and chopped parsley. Stir in low heat until the sauce wraps around the batter, about 3 minutes. Serve with grated Parmesan.
Illustration Marta Madureira
Text Eugénio Roda
Recipes Luís Baena