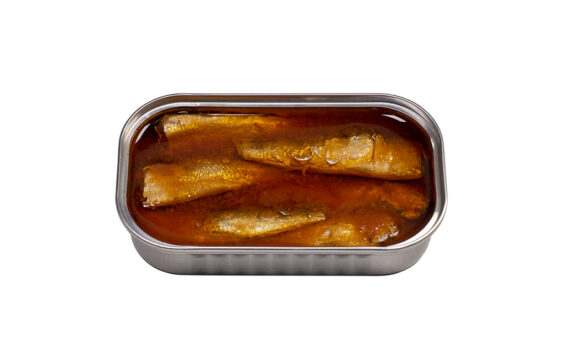 Small Sardines in Tomato Sauce
Originating in the Atlantic and the Mediterranean oceans, these small sardines are carefully prepared and seasoned with olive oil and tomato, a basic combination of powerful flavours. With no added food preservatives, flavourings or colourings, but rich in antioxidants, this product is undoubtedly balanced in its nutrients, but with full-blown flavour.
When the sardine asked the "petinga"(small sardine) what she would like to be when she grew up, she replied: "I want to be small!" Then, the sardine asked again: "And when you are small, what do you want to be?"; "I want to be big!", answered the "petinga". Fed up of being laughed at, the sardine slapped the "petinga" so hard on the face that she turned red as a tomato.
---
Shop
---
Recipes
CHILDREN IN THE KITCHEN
Spaghetti with sardines
Boil 1/2 kg of spaghetti in water, drain but make sure to keep 1/4 of glass of that water fot further use. To the spaghetti add 2 tins of sardines with the tomato sauce from the tin as well as 1/4 glass water. Add 200g of butter, which has been kept at room temperature, and 50g of grated parmesan cheese. Mix together carefully away from the stove. Mix everything together and serve.
GOURMET ADULTS
Sardines in tempura with wasabi mayonnaise
Add without beating, 150g of flour to freezing cold water in order to create the tempura batter. Add 1 tea spoon of wasabi and the tomato sauce from the tin to 1,5dl of mayonnaise. Use sardines from 3 tins and p|ace 1 mint leave next to each sardines. Damp each one in the tempura batter. Deep fry in cooking oil at iSOºC. Serve with wasabi mayonnaise. Can be accompanied with boiled potatoes or a side salad.
Illustration Marlene Couceiro
Text Eugénio Roda
Recipes Luís Baena