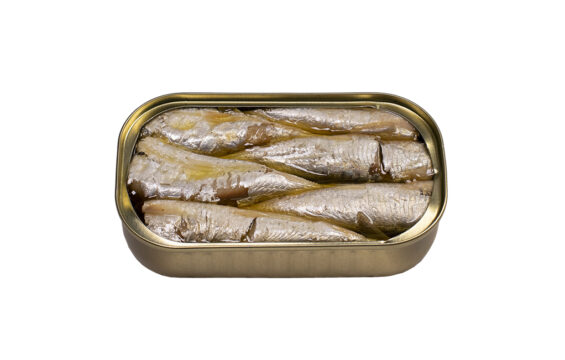 Small Sardines in Extra Virgin Olive Oil
"Petinga" is a suitable name for a small fish. But there are other appropriate names. One of them is «esquilha», and it is still used in Southern Portugal, in Setúbal. children used to be called by that name by their kin in fishermen's families. You can hear many stories while you are tasting our small sardines.
"Petinga" and tidbit usually met in moments of great delight. They used to flirt at lunchtime, late afternoon and supper. A long time has gone by, but they are still together today, and closer than ever!
---
Shop
---
Recipes
CHILDREN IN THE KITCHEN
Chirachi, Sardines "Petingas" in extra virgin olive oil "sushi" 2 people – 2 cans
In a bowl, put the cooked and cooled sushi rice seasoned with a mixture of rice vinegar and sugar until you get the right taste.
On top of the rice bowl put sautéed shitake mushrooms, grated carrot, thinly sliced cucumber, cut or chopped sushi seaweed nori, petingas and toasted sesame seeds.
GOURMET ADULTS
Small sardines in extra virgin olive oil with tzaziki 2 people – 2 cans
Grate the flesh of 1 cucumber. Season with salt and drain in a muslim removing as much water as possible.
The day before put 2 -3 yoghurt soupspoons inside a muslim bag and keep inside the refrigerator holding with a string.
The day after chop or grate with a microplane ½ garlic clove, ½ shallot, fennel leaves, cayenne pepper, honey, lemon zest and olive oil.
Ilustration João Machado
Text Eugénio Roda
Recipes Luís Baena